What is the Best 50cc Dirt Bike for Kids?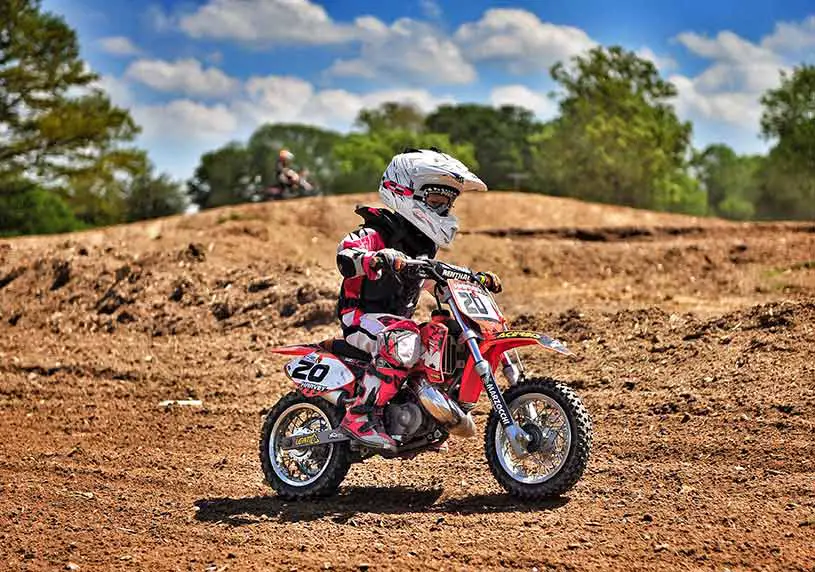 My neighbor, Jeff, recently asked me to recommend a 50cc starter bike for his 7-year-old boy, who had shown interest in the sport. My head immediately went to a few brands that make great beginner 50cc dirt bikes. With my experience, I've seen them all in action and I know the ins and outs of 50cc starter bikes for kids of that age.
To let you know right off, as a 1st choice I recommend the Honda CRF50, 2nd choice the KTM 50cc, and the 3rd choice  Yamaha TTR50 when buying a 50cc dirt bike for a child.
With over 25 years of dirt bike experience, a lot of times, as my friends and neighbors are looking to get their kids into the sport; they'll come to me for advice. I love sharing my knowledge and pointing them in the right direction. If we can start their young riders out right, they'll develop a lifelong passion for the sport and we'll get a new generation of knowledgeable, experienced riders.
In this post, my goal is to show the reasoning behind these recommendations, tell you why a 50cc is generally the best dirt bike for kids, and give details on the three I recommended as well, as a few others, so that you can make an educated decision when picking the best 50cc dirt bike for your young rider, whether it is a starter bike, or an upgrade from an electric dirt bike they had as a youngster.
Why is a 50cc Dirt Bike Right for Your child?
A kid's first bike is their introduction to the sport, and should provide them with a fun and enjoyable experience, rather than overwhelming them. Typically, a 50cc dirt bike is recommended for new riders who are 3-7 years old. Once they're 8 and older, their size and strength will be developed enough to ride a larger and more powerful bike.
A 50cc dirt bike has the smallest gas-powered dirt bike engine and will give your aspiring rider a strong foundation to build off of.
In the age of video games and mobile devices, a kid getting excited about a sport he can share with his family is something to be grateful for. The last thing one would want is for their child to feel overwhelmed or get hurt while riding on their bike and have that be one of the first things that they experience in the sport.
 Are Dirt Bikes Safe for Kids?        
Simply put, yes! As long as they are on a correctly sized and powered bike for their age group, and they have experience and supervision, a dirt bike is safe for a kid to ride. Just as with adults, the key to safety is awareness. If you're aware of your child's limitations, ability level, and the correct bike for them to ride, they should be perfectly safe.
A lot of my recommendations on this list even have throttle controls, so that you, as a parent, can have control over how fast your kid can go on their bike.
Your Key Considerations in Buying a 50cc dirt bike for your kid.
Appropriate Age to Start – With the addition of training wheels, a kid can start riding a gas-powered dirt bike at age 4. By age 5 and 6, the training wheels can be removed. Even before age 4, there are a number of small, underpowered electric dirt bikes that are safe for a kid to ride.
Cost – Costs vary widely in the 50cc dirt bike arena. If you are solely shopping for a new bike for your young rider, then you should be looking to spend between $1200 and $2000. If you are willing to get them started on a used bike, you can find a much better deal.
Size of your child – A typical rule of thumb is that, regardless of size, a 50cc dirt bike is appropriate for a child who is under 7.
Outgrowing their Bike – Once a kid reaches 8 years old, it's likely that they'll have the size and strength to move up a size in bike. While it's important to move forward in the sport and upgrade their bike, they are still able to use and ride on their 50cc dirt bike once they outgrow it.
It is just a phase? – Like anything in life, passion springs from practice. If your kid spends time outside and on his bike, they'll continue to have a passion for the sport. If they become lethargic about riding, they will lose interest over time.
New or Used? – 50cc dirt bikes can run fine for more than a decade without much maintenance. Whether you buy a new or a used bike for your child is completely up to you. However, 50cc dirt bikes hold their value fairly well, so buying one used wont get you a steal necessarily. Often it's worth it to just buy a new bike.
Four-Stroke 50cc Bikes
Honda CRF 50
The Honda CRF 50 is my top recommendation for your beginner rider. I chose this because it's easy to use, reliable, and offers a few features that will benefit new riders.
Automatic Clutch: One of these features, complementing the bike's ease of use, is the automatic clutch on the bike's three-speed transmission. With an automatic clutch, your young rider will learn to shift gears, but won't stall out. It's a great feature that will set your kid with a strong foundation to build on as he ages into more high-powered engines.
Parental Throttle Controls: The adjustable throttle meter on a CRF50 is a great feature, especially if you're worried about your young rider feeling overwhelmed. You can start them early with the throttle at a setting you feel is appropriate and slowly increase the power as they grow in the sport, before upgrading them to another bike.
Kick Start: The CRF 50 features an electric starter that will be easy for your young rider to operate. In addition though, it has a kick starter, which will allow you to start the bike easily in case the battery dies or fails. That way, a day of riding isn't wasted because of a simple battery issue.
Price: At around $1,500, the Honda CRF 50 wont break the bank, but provides the reliability that Honda is known for. Honda bikes also hold their value well and there are always new riders coming into the sport, so reselling it when the time comes won't be difficult.
Yamaha TT-R50E
The Yamaha TTR 50E is my third choice in a first dirt bike for a young rider's introduction to the sport. It's most comparable to the Honda CRF 50 as a four-stoke bike. The seat height is 21.5 inches and the weight is 126 pounds, so it is pretty comparable with other bikes in the four-stroke category.
In comparing it with my top choice of the Honda CRF 50, it's important to note that this bike is faster than its competitor and has a top speed of 32 miles per hour. If you're concerned about your little one getting too aggressive with the throttle however, remember that it has an easily adjustable throttle control.
No Kick Start: While the Yamaha TTR 50e doesn't feature a kick-start like the Honda CRF, this shouldn't be a deal breaker for a lot of parents looking to buy a bike for their beginners. I often find that the kick-starter serves more of a purpose for the parents than the young riders themselves, as the kids are sometimes to young to even operate it with ease. Even if they're able to eventually get the bike going, this is more of a chore than a feature sometimes.
Price: The price tag on a new Yamaha TT-R50E is pretty much comparable to that of the Honda CRF 50, and starts at around $1500.
Suzuki DRZ-50
The Suzuki DRZ-50 serves as a nice starter bike, especially if your child is a bit too tall for the super-low seat height seen on the Suzuki JR 50 or the Yamaha PW50. Like the Honda CRF 50, this bike features both an electric starter for ease of use and a kick-starter for a back up, in case the battery dies.
This four-stroke engine dirt bike is comparable to the CRF50 and Yamaha TTR-50, and like some of the others on this list features and adjustable throttle stop to ensure your child doesn't go too fast before they're ready.
Price: The price on a new Suzuki DRZ-50 ranges a bit higher than the Honda CRF 50 and the Yamaha TT-R50E, with a new bike starting at around $1800. Luckily, these 50cc bikes are easy to maintain and retain their value fairly well. When the time comes buy a larger bike for your rider, you wont take a giant loss if you decide to resell it.
Two-Stroke Bikes
KTM 50 SX Mini
The KTM 50 SX Mini also ranks in my top three. Over time, with the KTM super cross challenge and Lorreta Lynn's amateur national, KTM has made a name for themselves in the world of 50cc starter bikes. These bikes offer a better suspension system than even the Honda CRF 50, and features disc brakes on the front and back.
Two-Stroke Means 60:1 Mix: As a two-stroke engine bike, you'll need to mix oil into you're fuel at a 60:1 ratio. Some households are probably used to this process. If not through, a four-stroke might be more user-friendly for you and your child.
No Shifting Gears: One aspect of the KTM to consider when buying a first bike for your young rider is that the KTM has no gears to shift, which could be a positive or a negative depending on what you want for your child. Instead of shifting, the KTM operated on one long gear. Rather than shifting, the rider will simply pull the throttle to accelerate.
Price: These are great little machines and they're priced as such. A new KTM 50 SX Mini will run about $3500.
Yamaha PW50
This little dirt bike by Yamaha has remained mostly unchanged since it was first introduced as the Y-Zinger in 1981. Like the Honda CRF 50, this bike has an air-cooled engine and throttle controls, which give parents the ability to manage the bike's power output depending on the young rider's level of expertise.
A positive that this bike has to offer young riders is the super-low 19 inch seat height, and 82 pound dry weight, making it small and light so that small beginners wont get overwhelmed.
Price: The MSRP for a new Yamaha PW50 is around $1500. There is a huge used market for them though, and if this id the bike you're interested in, it might be worth checking online or asking around in your local track community.
Cobra CX50 OI
The Cobra CX50 Ol features a two-stroke engine, 22-inch seat height and a feather-light 79-pound dry weight.
Price: A new Cobra CX50 OI will run around $2300.
 Suzuki JR 50
The Suziki JR 50 is another two-stroke option for your young rider. This bike features a super-low 19-inch seat height, an 84-pound dry weight, and a single-speed automatic transmission.
Based on my conversations with other users of this bike it seems to be an awesome little two-stroke that normally starts without any problem. They run a high-end fuel 40:1 mix. Surprisingly, this bike is one of the very quiet ones so you will not anger your neighbors if they are not dirt bike riders.
Price: The Suzuki JR 50 is priced below many of the other bikes on this list. A new JR 50 will run around $1100.
SSR 50cc
If you're not sure if you're young rider will be in it for the long haul and price is a matter of concern, the SSR 50cc might be a good choice for you when shopping for a bike for your beginner. With an entry price tag for $700 brand new, these little bikes are popular as "crash up" bikes for many to use.
The quality of SSRs is far below that of other bikes on this list, but, if you're looking for a cheaper bike to get your kid started, and are able to repair it a bit as things go wrong, the SSR 50cc might be the right choice for your new rider to get Their feet wet in the sport.
50cc Dirt Bike Maintenance
Luckily, a 50cc dirt bike requires very little maintenance, as long as it is from a trusted manufacturer. Most likely, if you change the oil regularly, the bike will run fine for over a decade. There are a few things you'll need to do with the dirt bikes overtime. These are basics for families experienced in the sport, but may be new if you're shopping for a dirt bike for the first time ever.
Change the oil yearly
Clean the air filter after about a dozen uses.
Charge the starter battery in the off-season.
Repair flat tires.
 Apparel and Accessories
I could write an entire article on the accessories and apparel for young riders, and I probably will. For a little taste, I want to make two additional points in this one though.
Training Wheels
Especially if your child isn't confident starting out, training wheels might be a good idea. Most training wheels will be universal, and, just like with the bikes themselves, there is a used market for them as well.
Apparel
As with most sports, the standard apparel exists for a reason. A hockey parent wouldn't put their kid on the ice without the proper gear, and neither should dirt bike parent. They will fall, but if they have the proper gear, they won't get hurt.