Best Dirt Bikes for 10 11 12-Year-Old Kids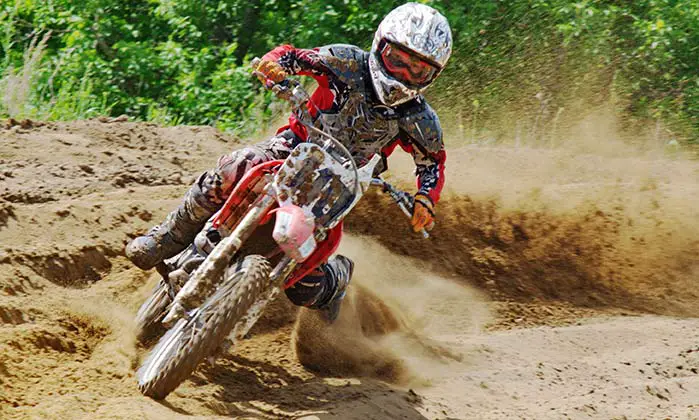 Has your 10 11 or 12-year-old kid told you that he or she wants to start riding dirt bikes? Or maybe it is your idea to get them started and you feel little uneasy about it? If you are you nervous it is ok but don't be. At this age dirt bikes can be a lot of fun, however, sizing the right bike for your 10 11 or 12-year-old can be tricky. There are a lot of factors to consider and we will describe them all in this guide. I hope it will help you in making your decision.
As a parent, you will always be concerned about your kids, I get it. As once scared and anxious parent, I am here to tell you that dirt bikes might not be for everyone but if your child develops an interest the least you can do is to educate yourself on the subject enough so you are better prepared to answer questions that will come your way. I might be a little biased towards riding as I love it and have done it myself for years so for me it is no brainer get them started – use common sense and safety first.  When my 10 year old nephew asked me to teach him how to ride I knew his parents would have many questions for me so I decided to gather all questions and put them in this guide.
There are many different dirt bikes and for the most part, they are really good. There are some preferences that will make you say this is the dirt bike I would like my son or daughter to learn on.
For a 10 11 or 12-year-old average kid that wants to learn to ride dirt bikes and he or she is not too much into racing or a serious motocross I would recommend Honda CRF110F, which is the bike that my nephew rides, following by the Kawasaki KLX110, or the Yamaha TT-R110E model. These models are fun for the whole family and they beg to be ridden by everyone in that age group. As I put it fun for one fun for all. Let me walk you through all that you need to know before buying a dirt bike, and I will help you identify which and how to choose the best model for your kid. If what I wrote here is useful please give a thumbs up at the bottom of the article I appreciate that.
How do Dirt Bikes for Kids differ from Adults Bikes?
Children at this young age always want to be like the heroes they see on the motocross track. Buying your kid a dirt bike similar to that James Stewart or Ryan Villopoto rides will be a big mistake. For kids, you have to go small in the size for the bike and also the engine. You don't want to get your child something too heavy or too powerful for safety reasons, but also you want something that will last them for several years.
The main difference between kid's bike and regular dirt bikes, for the most part, is that for kids are just a smaller version of adults' dirt bikes. They are light, easy to ride and simple to control. Other than the bike size other things that make them different are:
Kids dirt bike has a smaller gas engine size ranging from 50cc to 125cc. The increase in demand for these types of bikes has led to the development of electric bikes that are way simpler to use and maintain.
Most of dirt bikes geared towards kids are not street legal. Which is ok because you don't want your kids riding busy roads anyway.
Is There a Benefit for Kids Riding Dirt Bikes?
Wow, you probably didn't think that there are benefits to your child riding dirt bikes all you were thinking how dangerous they can be but guess what there are good reasons to do it and these reasons are worth mentioning for sure. One of the most important things is bike is not a computer or a phone, meaning your child will have a chance to explore the surroundings, be outdoor and be much healthier. To me, this reason alone is enough to move forward but here are more:
Ridding dirt bike will enable your child to develop motor skills and reflexes in the real world situation. They will gain confidence and learn how to act responsibly. Focus on safety first from young age will pay off as they get older.
Riding provides kids with an excellent workout for the full body, which is ideal for their cardiovascular and physical health. Again, being outdoors on the fresh air is good for your body.
Dirt bikes come with freedom, and with this, your kid will have a chance to quench their thirst for adventure. They will have an opportunity to explore new areas and through discipline, they will become more responsible.
Dirt bikes are versatile, and it's an outdoor activity that knows no season, whether it is coursing through the woods during the summer or having fun riding during cold winter. Of course winter activity you should leave for the second season of your dirt bike adventure.
Riding keeps the kids alert and allows them to have a perfect coordination of the body movements. Hence, it enhances their cognitive ability and overall mental health.
Riding activity increases your child's muscle and core strength as the kid tries to control the bike. Gripping the handlebars and the need to exert greater control over their body increases their strength naturally. The core will engage as the rider tries to keep balance when going around a bend or over uneven terrain.
Riding the bike over an extended period increases your kid's stamina and endurance level.
Dirt biking is a thrilling activity that gets your blood pumping. As a result, your body releases dopamine and endorphins neurotransmitters that have a positive effect on your brain chemistry leading to enhanced mood.
Well, there you have it. There are a lot of positive you probably didn't think of but it is fine. I am not a licensed medical person but I use common sense tactics on many of these. You can always ask your doctor what he or she thinks about them.
Size of the Bike and the Weight Limit
The first question you should ask yourself when looking at a range of different bikes is, 'what is the right dirt bike size for your child? Well, you should consider the size of the bike and its weight limit. Your Child should be able to sit comfortably with the feet touching the ground to allow for better control, especially when it comes to starting or stopping the bike.
Remember, riding boots have a higher heel than other shoes, thus it's a good idea to get your kid wear the boots when trying different bikes. Their feet should not be flat on the ground. If that is the case, they are likely to overgrow the bike very fast. Also, they are likely to put more weight on the suspension, which will make them feel the bumps more. If you are buying online, the trick is to know the dimensions of the bike you want to buy and your child's height.
It is important to pay attention to the weight of the bike and that of your child. It is easier to ride and maneuver a light bike than it is for a heavier one. Ensure that the bike is lighter than your child. This is important since a heavier one will be dangerous and can cause serious injuries in case of a fall off. Bikes for kids aging 7-14 years range in a weight limit of 60-120 pounds.
Dirt bikes have different colors and styles, including freestyle, motocross, and supercross.  It seems the color decision has already been made for bikes, as Hondas are red, Kawasaki's are green, Yamaha's are blue, BMW's are white, KTM's are orange, etc. The color of the bike does not matter, what does matter is making sure you can easily get access to spare parts. When you consider buying it is always important to involve your child as he or she will be riding it so you want to make sure they have little say in it.
Before you start looking for a bike, it is important to figure out how much you are willing to spend and set your budget. As you plan, ensure that you not only budget for the cost of the bike, but also leave a room for any safety gear. The budget will also dictate the quality of a bike to purchase for your child.
The more the features the bike has, the more expensive it becomes. Also take into consideration the maintenance cost, registration, gear, insurance if required, and other expenses you might incur. It is important to always stick to your budget.
Kids bikes have either a four-stroke or two-stroke engine, and it is important to understand the difference between the two engine types before you make any purchase. For kids, the four-stroke engine is the way to go as they only deliver power for every two rotations of the crankshaft. This allows for smooth acceleration, reducing the scary stop-starts that your kid might experience on their way. For kids, a four-stroke will be quite enjoyable and easy to control.
On the other hand, two-strokes deliver power for every rotation of the crankshaft and have a high kick in their steps but might be a bit difficult to control at low speeds. This makes it not suitable for young kids, especially starters. Typically, engine size for kids starts at 40cc to up to 125cc models, which are small and reasonable. The 40cc or 50cc is what I would recommend for an absolute beginner. As the kid advances, you can get them bigger engines.
Basic kids bike's feature an electric start engines, meaning they are easy to start. As they advance to more powerful bike, kick-starters become the norm, and you might have to help your little one to start their bike for the first time. Also, the age of your bike will also determine the starter system with the modern ones featuring the electric system and the older bikes the kick starter.
Another thing you need to take into consideration is the seat height. Many parents try finding a bike based on the age of their kid. While this might work pretty well for kids with average heights in some kids, it might not be the same.  The best indication of a right size dirt bike is one which your child can touch the ground with both feet while sited on it. The ideal height recommended for kids between the age of 10 and 12 years is 26" to 31" depending on their height. Look at the table below for sizes:
5'4″ (162cm) Tall – 33 to 36″ seat height
5'2″ (157cm) Tall – 31 to 35″ seat height
Kids 10 to 12 years old – 26 to 31″ seat height
Kids 8 to 9 years old – 24 to 28″ seat height
Kids 3 to 7 years-old – 50cc dirt bike
The wheel size is a great determinant of how riding a bike feels. For small capacity bikes, i.e. below 125cc, they come with either small or big wheel. They both have their pros and cons. For smaller wheels, they are light and more nimble to allow the kid to make quick turns with ease. However, their rims can be bent more easily when going over a rough corrugation. For big wheels, they are a bit heavier but have great stability and soak up small bumps so easily leading to a smoother ride.
When choosing a bike with big or small size wheels, you will have to consider the age and height of your child. The big wheels bike might be slightly high for your child and in that case, you might want to consider one with small wheels. I would recommend you to start your kid with small wheels and advance to big ones as they grow and improve on riding skills as well.
Level of Power that Best Suits Your Child
For kids, it is always important to start with a lightweight dirt bike that has less power. The power of the bike will be determined by the type and the size of the engine. The smaller the engine size, the less powerful the bike is. Therefore, a four-stroke 50cc will be ideal for a starter bike for 3 to 7 years old children. The child can advance gradually to a more powerful bike upon gaining confidence as a rider and of course upon getting older.
Some of the reasons that you might want your child to advance to a more powerful bike are:
Perhaps your kid is growing rapidly and has overgrown the small bike.
You might want the kid to learn how to operate a clutch, which is only available on bigger bikes.
You might want your kid's bike to have improved features such as suspension, better brakes, and larger wheels that are available on more powerful bikes.
Posture
Body position goes hand in hand with balance. The key thing is to ensure that the kid can support himself or herself in the upright position especially while moving over the bumps. That means your child should have enough core body strength. Where the kid positions his/her body when taking a corner, hitting berms, or taking jumps is crucial to controlling and balancing the bike.
Wrong body posture can lead to serious injuries, it is important to ensure that your child learns how and where to grip the knees, where to place their feet on the foot pegs, and the posture of the arm, back, and fingers. It takes a lot of practice for your kid to know the best position to tackle various obstacles along the way.
It is important to consider whether the kid can handle the bars with a tight grip. You should also ensure that they can hold back the throttle while maintaining a steady course.
The suspension of a dirt bike determines the smoothness of the ride. The 2-stroke or 4-stroke engines offer different stability. The good thing is that the electric model is a safe bike with battery-powered strength.
Just like any other machine, the dirt bikes require proper maintenance and upkeep. It is important to consider bikes that are easy to maintain. Your kid's dirt bike might have the two-stroke engine, which requires constant attention. It also requires more frequent rebuilding as compared to the four-stroke engines. If you are not a confident mechanic, you might need a professional to maintain the bike.
Is she/he a First-time Rider
The level of experience is a critical factor when choosing the right bike for your kid. There are plenty of options for young starters out there that come with automatic clutches and three-speed transmissions to help the kid get used to riding on two wheels. For kids with experience, you might want to consider a bike featuring a manual clutch to allow the kid learn how to use a clutch and play along with more gears.
For young starters, it is always good to start small and with something automatic for young kids who lack the riding experience. The lighter and less powerful the bike, the better it is for the kid. The child will easily learn how to control, balance and adapt to riding.
Your child's height is critical when it comes to choosing the right bike. Pleasee the chart above for your child height and bike seat size for more details. You do not want to buy a bike where your child cannot step down with his both feet while seated on the bike. This is ideal as at times they will have to put their foot on the ground to balance themselves as they learn how to control the bike. Some are adjustable for those kids who are short for their age. The adjustments can be achieved by lowering the suspension, which in turn, lowers the handlebars.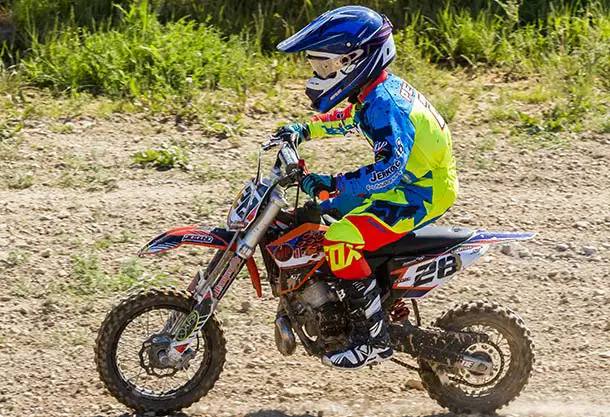 Top 10 Brands of Dirt Bikes
Here are the top 10 brand's manufacturing the best bikes:
It is a Japanese Company that manufacturers both the four-wheeler and two-wheeler dirt bikes. The brand is popular in the motorcycle industry globally.
It is also a Japanese Company that has been producing these bikes for quite some years. They are ranked as the best producers of trail riding dirt bikes.
It is a company based in Italy and ranks among the top 10 brands manufacturing the best motorcycles. Their bikes have unique features and styles and offer a great balance and suspension.
The company has been ranked as the world's largest motorcycle manufacturer since 1959.
It is an Australian Company known for producing class-leading, off-road motorcycles.
It is a highly rated company for producing kids bikes at an affordable price.
The company is known for manufacturing a wide range of products including the dirt bikes.
The company is based in Germany, and it is well known for producing high-quality bikes for kids.
It is a Korean producer of lightweight motorcycles ideal for kids. They offer their bikes at an affordable price without compromising with quality.
This brand is based in China and offers affordable bikes that provide you with unrestricted riding experience and uncompromised power.
My Favorite 4 Bikes for 10 11 12 Years Old Kids 
There are plenty of bike options on the market today having different styles, features, and colors. Many brands are producing impressive bikes for young kids and choosing the right one can be very demanding. I will highly recommend that you go for a bike with suitable features, one that is ideal for your kid, and one that fits in your budget. Here is my top favorite for an average kid wanting to have fun and adventure:
This is the model that I recommended for my 10-year old nephew. It has a seat height of 26.8" and weighs 163 pounds. I prefer this bike as it has both the kick starter and electric starter it is lighter than Yamaha and Kawasaki. Its power is incredible with a displacement of 109cc. It is well built and a very reliable bike with drum brakes. It usually starts at the first time. You can ride on it for a long time with 1.1 gallons of gas tank which is slighter larger than its immediate competition. A brand new Honda CRF110F is available at the cost of about $2,249 which is about $50 cheaper.
This bike is also very good. You would not be disappointed if you selected it. This bike has a seat height of 26.4" and a weight of 159 pounds when it is full of fluids, which is ideal for kids aged 10-12 years. It has a displacement of 110cc. However, it comes with a 90-day warranty only. A brand new Yamaha TT-R110E is available at a cost starting from $2,299. You can also get a second-hand bike at a lower price.
This bike has a seat height of 31" and a weight limit of 140 pounds. However, it does not feature dual suspension. A brand new bike is available at a cost around $2,249.
This bike has a lime green color of the Kawis and seems to be more popular among kids. It has a seat height of 26.8" and weighs 167 pounds. A brand new bike is available at the cost of $2,299.
Choosing Best Dirt Bike for 10 11 12-Year-Old Kids
Out of the four bikes, you can choose your best. They are very close regarding features, quality, and price. They are priced within $50 of each other, are within 4" in seat height of each other, have almost the same cc rating, and features automatic transmission among other factors in which they slightly differ from each other. I selected Honda CRF110F for my nephew but you may take your child for a test ride and he or she may choose Yamaha or Kawasaki and that will be just fine.
Should You Buy New or a Used Bike?
As the kids grow, they will need to change to bigger bikes. It is possible to keep your kid on track with their hobby by considering whether to buy new or used bikes. While buying new bike has its obvious benefits such as warranty, some level of servicing for the first six months of ownership, and assurance of good condition, buying a used bike is a better choice for budget-conscious parents.  You can shop around used models, and you might land a good deal. I personally prefer used bike especially as a starter bike that will be dropped many times. Of course, choice is yours.
Saving Money on Dirt Bike Gear for Kids
It's difficult for parents to accept that at some point their kids will fall off when riding the bike. Along with the bike, you need to equip your children with the right protective gears to protect the kids from impact if they happen to fall or take a tumble while riding.
Tips for Helping Kids Enjoy Dirt Biking
As a parent, it is important to help your children familiarize themselves with dirt bikes. Here are some few tips you should know:
It is always necessary to start training your kid on a flat, straight dirt road. Let them first learn how to go steadily on a straight before learning on how to make turns, otherwise; they might fall off and feel frustrated as well.
For a 10-year kid, you can ditch off the training wheels. If you start training the kid with the training wheels, he/she will just be scared to take them off. With this, you will build their confidence as compared to starting them off with training wheels.
Ensure that you start your kid with the right size of a dirt bike. For a starter kid its recommendable to start on a 50cc bike, as it is light, small, and less intimidating. Large bikes are tough for kids as they are heavy, especially when they try to make a turn or stop.
Teach one fundamental at a time. In each trip try to teach your kid only one thing for the entire time to avoid overloading them with information. You can try teaching your kid on how to go in a straight line on the first trip, show them the proper riding position, how to turn 180 degrees on another, etc. until they reach to a point where you can confidently let them go on their own.
It is important to let your kids practice front and rear braking. This will help them know how to slow down, come to a smooth, or to a stop.
For turning, it is important to find a large, flat open field where the kids can practice. They will have enough space where you can work with them to get their turns tighter and tighter until they can turn 180 degrees without getting off the road.
Ensure that you closely supervise them and control their speed until you are sure that they are mature enough and can control their bikes at high speed.
Ensure to make a few adjustments on how your kid rides the dirt bike. With this, you will prevent 90% of the most common injuries. You can check for more information on how to keep your kids safe when dirt biking.
You should never give up on your kids when training them how to ride a dirt bike. They will tend to clamp up if you put a lot of pressure on them or lose confidence in their abilities.
Lastly, you should always encourage your kids. Help them understand that dirt biking is good for them and that its okay to crash once in a while but they should never give up.
How and Where Can Children Ride Safely?
The safety gears and where you live dictates how and where your child can ride safely. Different areas, the woods, mountain trails, or sandy beaches provide an exciting assortment of turns, obstacles, and twists that provide fun. Many communities have public tracts where your kid will have an opportunity to ride and meet other riders.
While dirt biking itself carries some risks with it, it is right for parents to be concerned on the safety of their kids. There are numerous ways in which you can reduce the risk of your kids getting hurt.
Where to Buy Dirt Bikes
Other than from the manufacturer's dealerships, specialty motorcycle stores you can also buy them online.  Below are some of the best places where you can buy dirt bikes for your 10, 11 or 12-year-old kid:
Amazon
eBay
Craiglist
Local Auctions
Final Verdict
Choosing the right dirt bike for your child and teaching them how to ride is an involving process. There is a lot you need to take into consideration, but once you know the different types of bikes available and the right one for your kid, its fun teaching them and watching them learning new skills. Understand that falling off the dirt bike, losing control, or stalling is part of the game until the kid masters the bearing. It's a good thing for the child to learn how to ride at an early age and be patient with them till they get it right. The coordination and other skills they acquire will help them later in life, and also they provide them with an opportunity to interact with others and explore the world.